Bint Genua
(Embryo Transfer Only)
Bint Genua (deceased) is by MHF Eclipse (14(4-0-2), $9,875, set NTR at Los Alamitos, 6 fur. in 1:17 2/5). Sire of stakes winners DREAMSCOME TRU, DETERMIND and HIGHNOON ECLIPSE and stakes-placed winners Alohaa, Grand Eclipse and Full Of Finesse.
Her dam is the outstanding producer, Cassels Genua who is also the dam of SAMSHEIK (UK Sprint Champion), GENUINE MONARCH (Darley nominee) and GENUINE RULER.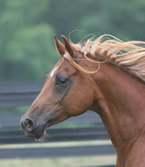 Her first foal to race, Genuine Pleasure, placed twice in three starts, and Bint Genua became a winning dam with Monarchs Gold.