CRE RUN Represents Stallions from Iraq

Cre Run now represents stallions bred in Iraq by Dr. Mohammad Al Nujaifi, the number 1 leading owner of all countries by wins- 2010, 2011, and 2012 IFAHR rankings (International Federation of Arabian Horse Racing).
** SEE THE STALLIONS FOR BREEDING AND PRESS RELEASE !**



Nivourgonnatouchthis Wins the Bandos Stake in Poland

On the 18th of June 2011, NIVOURGONNATOUCHTHIS ("Touch" - Nivour De Cardonne x Canttouchthistron) raced in the Bandos Stake for 4 year old and up in a field 10 at a distance of 1800 meters (mile and one eighth). He won by a comfortable length and a half over Sagala Z Regula and Von. Surface turf. Time 2:05.5. On the opening day of this year's racing season in Poland in race number 6 on the racing card, distance mile and one forth, Touch came 2nd in a field of 7 beaten by one and one forth length by Eris Al Nath. Time 2:27.3, surface turf.
"I would like to stress the importance of the race he won," comments owner Longin Blachut. "'Touch' passed the finish line winning the first race opening the commemoration weekend, celebrating the 170th anniversary of horseracing in Poland, on Saturday 18 June 2011."





Please take a moment to watch our video of Deb's recent visit to the Grand Mosque in Abu Dhabi

The Grand Mosque was built in the late 1990's, its conception was initiated by H.H Sheikh Zayed bin Sultan Al Nahyan. Shiekh Zayed bin Sultan Al Nahyan was the first president of U.A.E and an integral part of Arabian horse racing on an international level.
In 1980 Sheikh Zayed bin Sultan Al Nahyan started breeding Arabian horses at his Royal Stud specifically for racing and endurance. He is credited with entering Arabian horses onto French and European race tracks.
His efforts to promote Arabian racing worldwide are being continued to this day. The Global Arabian Flat Racing Festival is a worldwide series of races being held in countries such as Abu Dhabi, France, Holland, Polland, Germany and USA.



Congratulations to Poland on their acquisition of Nivourgonnatouchthis

Cre Run´s Nivourgonnatouchthis was sold and departed for Poland to stand at stud in that country. He is a son Nivour De Cardonne out of the winning and multiple winner producing mare Canttouchthistron. He is a 5 year old chestnut stallion who is stakes placed. See more of our Nivour get for sale here.


Son of SAM TIKI+ chosen to race for USA Team in World Equestrian Games

Ssamiam, a son of Cre Run's stallion Sam Tiki+, was chosen as 1 of 5 horses that raced for the USA Team at the World Endurance Championship in Lexington, Kentucky on September 26, 2010. He was pulled after finishing 4th but bested the American time for 100 miles in 7 hours and 40 minutes and was 5 minutes behind the reigning world champion. This was only Ssam´s second 100 mile race! He was ridden by Heather Reynolds. See our endurance page for more great endurance horses and prospects.




Cre Run horses take 1-2 in Grade 2 Stake

A LADYS MAN, a 4-year-old gelding by Nivour De Cardonne, sealed an undefeated 4-for-4 record with his win of the Grade 2 Texas Six Shooter Stake.

"He's as game as they come," commented jockey William Hollick. "He did a good job keeping the pace and holding onto the win. This horse has a heart the size of Texas."

His stablemate Full Of Fiesta, also by Nivour De Cardonne, came up for a very close second in this important stake worth $41,800. A LADIES MAN and Full Of Fiesta are both owned and bred by Cre Run.

"We are blessed that Shadwell has allowed us to stand the sire of A Ladys Man and Full of Fiesta," said Mihaloff. "It was a wonderful race and we love being in Texas. This track has been very good to us."




DAHESS's first foal to race is a Winner!

Farha, a 4 year old grey filly by DAHESS, was bred by Umm Qarn Farm Management and is owned by Sh. Tamim Bin Abdullah Bin Khalifa Al Thani. She is out of the mare Al Jowharah. Farha is trained by Alban de Mieulle. She won the L/B P/A/ Maiden Plate beating 13 opponents at 1200 meters on Turf.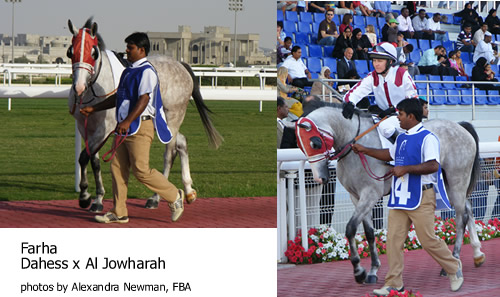 Cre Run receives 2009 Darley Nominations

Among many categories of Darley Nominations, Cre Run has received the honor of nomination for Darley Champion Breeder in 2009. Cre Run leads the standings for that Award, with a 2009 record of 133(18-22-22)2-13. The top 2009 horses bred by Cre Run include A Second Wind (2009 races 3(1-1-1)1-1, $30,211), Full of Fiesta (2009 races 5(1-2-1)0-2, $15,484), A Ladys Man (2009 races 3(3-0-0)1-0, $25,320), Later Ala Gatour (2009 races 5(1-1-1)1-1, $30,211), and Uncorked (2009 races 7(2-2-0)0-1, $18,880).

A Second Wind is a nominee for both Darley Champion Sprinter and Darley Champion 4 year Old Filly, Full Of Fiesta and A Ladys Man are both nominated for Darley Champion 3 Year Old Colt/Gelding, and Uncorked is nominated for Darley Champion 3 Year Old Filly.


A Ladys Man wins the Championship race at Delaware Park

A Ladys Man, bred by Cre Run, is a 2004 chestnut colt by Nivour De Cardonne out of PTF Lady Wiking. He won the Delaware Park Arabian Juvenile Championship on October 26, 2009, covering the one mile in 1:49.57, followed closely by the Cre Run bred Full Of Fiesta. Third in the race was Opening Act, also bred by Cre Run.


My Eclipse+ receives her Legion of Honor title

My Eclipse+ has earned recognition as a Legion of Honor recipient. She has shown in 2008 & 2009 in Arabian Sport Horse under saddle & Arabian Working Hunter including 2 recent championships at the East Coast Championship show. Her son Gran Eclipse is a half Arabian who went Top Ten at the 2009 Sport Horse Nationals in Half Arab 2-Year-Old Gelding In Hand. My Eclipse+ is by the Cre Run foundation stallion MHF Eclipse. She is owned by Donna Thompson. See more info and photos on our Happy Trails page.


Las Hilare. May 16, 1976 - September 18, 2009
It is with great sadness that Cre Run announces the loss of Racing Hall of Fame mare Las Hilare. She has left a legacy in her offspring that they will continue. Below is picture that was taken early this summer of her (far right) with her daughter Hilarius, her granddaughter Hilaritie and her great Grand Son Hilacious.

Her offspring included
SayHi Mc, 7/43(21-6-3)6-4
Las Jennifre
Iam No Fool, 3/23(10-3-2)2-4
Flaming Gal, 1/2(1-0-0)
Proof Positive, 1/3(3-0-0)
Hilarius 3/18(5-5-3)1-4
Eltun, raced in Qatar
Flaming Gal, raced in Qatar
A Fine Line, sold to the UAE
Heir Apparentt, standing in Abu Dhabi


A SECOND WIND wins the Texas Yellow Rose


This grade 2 stake was the second race in the 2009 Arabian Triple Crown series for fillies. (photos by Dick Reed). Many congratulations to the Berry Best of Friends Partnership. A SECOND WIND was bred by Cre Run and is by the great stallion NIVOUR DE CARDONNE. Thank you to RaceStreet Mgt. Inc. and Shadwell, U.K. for allowing us the opportunity to stand this fantastic stallion, and a special thanks to all of the connections.
See more about A SECOND WIND.


Three Cre Run winners at opening of Delaware meet
Crownn Royal won on opening day, in beautiful form looking so much like his great mother ROYAL ATHEENA. Berry Best of Friends Partnership owns Crownn Royal- another big congratulations on a job well done.

Then both Opening Act and Our Break Away won their races -- Cre Run off to a good start for the 2009 Delaware meet!

See more about Opening Act and Our Break Away.


The DAHESS foals are here!



Don't you wish you had one of these? We are exceptionally happy with these babies and invite you to come and see them in person. They are truly spectacular. See the '09 foals



Cre Run welcomes back OUR MACHINE
Darley 3 year old Champion OUR MACHINE is at Cre Run to be a part of our Stallion Roster. We are so proud to have him back. He was bred by Cre Run and epitomizes the Golden Cross of French onto Egyptian bloodlines.




GIMME A BREAK heads for Morrocco

GIMME A BREAK leaves for Morrocco to join the band of broodmares from Cre Run waiting for him there. All the mares had foals by DA ADIOS this year. Read news story about the Morrocco sale.


DA ADIOS wins award as WAHO 2008 Horse of the Year
Criteria for selection is based on an unrivaled level of outstanding achievement and contribution to the Arabian community, both within its country of origin and around the globe. DA ADIOS stands as one of the premier stallions at Cre Run. Read more here.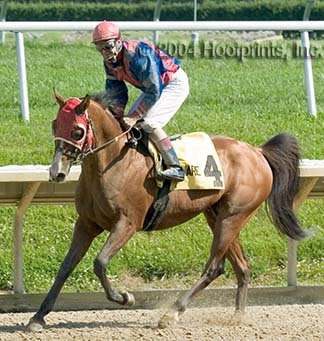 Nivour De Cardonne proving himself well as a sire.
Later Ala Gatour by Nivour De Cardonne just placed second in the Betsy Ross Arabian Distaff - only her 2nd out (she won her first out!). The Nivour babies did very well this big stakes weekend with Dixies Valentyne winning and Later Ala Gatour coming 2nd. Also in the Liberty Bell Stakes, Nivourgonnatouchthis was 2nd to Theoretically.


Cre Run sponsored The DA Adios Handicap Stakes, a 6 furlong challenge at Huntingdon Racecourse, England for purebred Arabians 4 years old and up.
The winner was PLUS, bred in France by HH Sheik Mohammed Al Maktoum. PLUS is 9 year old bay mare, by Djouras Tu (France) x Sherrie Noreen (USA). She is owned by The BXPS Racing Partnership, trained by Mr. D.J. Paton, and ridden by jockey Fred Offord. PLUS is obviously a mare of great heart and trust, running with only partial vision. She suffered an injury several years ago losing an eye. BXPS Partnership received a breeding to DA ADIOS as an extra prize for the win in this race. BXPS is the Hampshire based Arabian horse racing team that competes nationally at most events within the UK. David Paton founded the partnership of local owners and owner-riders and is an ARO Licensed Trainer. Photo below, PLUS cut through the pack in the final half furlong and snatched a win over Egypt, second, and The Way To Go, third.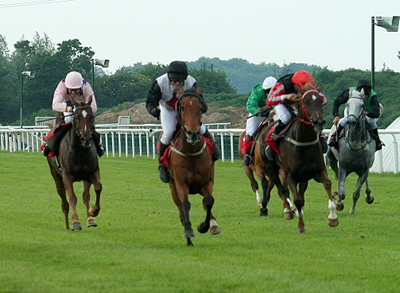 Finest Our breaks her maiden at Delaware Park
Finest Our by Nivour De Cardonne drew off to find the winners circle in a $9,500 Maiden Special Weight on May 26. This was only her second race in her lifetime. She placed 2nd in her first out.
Finest Hour's day at the races. Move your mouse over photos to control scrolling.

CreRun horses begin the Delaware meet with a blast-off
GIMME A BREAK wins Delaware Season Opener Stake! CreRun's Heir Expresss and Crownn Royal also won their first races of the season at Delaware Park. Congratulations to all the connections!
Crownn Royal- from Paddock to Winner's Circle:

Heir Expresss - victory and returning to Winner's Circle:

Gimme A Break - before the race, and victory:



CreRun horses head for Morrocco
Four mares bred to DA ADIOS left for Morocco in January, and eight more mares (7 bred to DA ADIOS and 1 to NIVOUR DE CARDONNE) are scheduled to leave for Morocco as soon as they are checked in foal. Read news story.
GIMME A BREAK honored as Darley Sprinter of the Year
Congratulations to Darley Award winning GIMME A BREAK. Read news story.



DAHESS joins the elite stallion roster at CreRun
CreRun is proud to represent and introduce to the U.S. the famous DAHESS. His race record overseas of 5/41(28-7-3) with 13 graded stakes wins and $1,432,292USD equivalent in earnings earned him the spot as all time leading Arabian racehorse in history. See DAHESS.



Mares Available for Lease
CreRun invites you to an opportunity to produce your own outstanding foals with one of the mares in our leasing program. The mare of your choice will be bred to the CreRun stallions of your choice. See the Mares for Lease.



DA ADIOS semen avaliable in Poland and Europe
DA ADIOS is now readily available to fulfill demand outside the U.S. thanks to Longin Blachut (Poland representative) and Val Bunting (Europe representative.) For more info and breeding information for the 5 time Darley Winner and two-time horse of the year, see DA ADIOS.


OUR MACHINE reels in the Darley
Our Machine (by NIVOUR DE CARDONNE ), bred by Alan Kirshner and Deborah Mihaloff of Cre Run, is awarded Darley Champion 3-Year-Old Colt for his excellent 2007 performance. His record boasts wins in the Liberty Bell S., Alec Courtelis Juvenile (G2) and Arabian Cup Juvenile (G1). Racing exclusively at Delaware Park, Our Machine finished the season with 5 wins in 7 starts and almost $60,000 in earnings.